Bringing the best of Asian culture, identity and creativity
We're excited to announce we're back again to team up with the award-winning GemArts Masala Festival 17th to 23rd July 2023.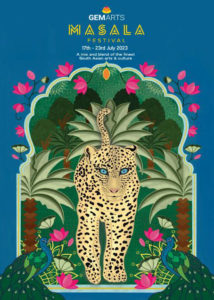 We're taking you on a flavour journey, capturing the sights, the tastes and the feels of the amazing Masala Festival. Diners can look forward to seven days of culinary celebrations across both Dabbawal High Bridge and Dabbawal Jesmond branches.
Dabbawal High Bridge 01912325133 / Dabbawal Jesmond 0191 2813434
About the Masala Festival
The Masala Festival is a week-long festival celebrating a mix and blend of the finest South Asian Arts and Culture, packed full of performances, exhibitions, events, workshops, pop ups and demonstrations, presented in venues, places and spaces across the North East.  GemArts Masala Festival is from 17th to 23rd July 2023, visit gemarts.org or download the full brochure below:
GemArts Masala Festival 2023 Brochure